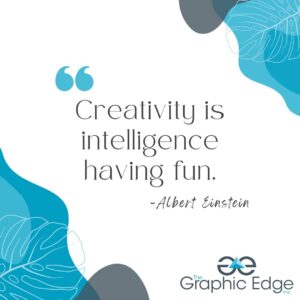 You're not alone! When you hire The Graphic Edge, Inc. to work on your branding, marketing, website, social media, or any other need you have, we all become one big team. Your heart and soul is in your business and our goal is to showcase that creatively and elegantly. Through in-person or virtual meetings, emails and phone calls, we get to know and understand your business so we can design effectively.
When we get to the design stage, that's where we really shine and get to have fun! After experimenting with color, layout, fonts, and more, we scheduled a meeting to showcase the first round of our work. During this meeting we show you a few different options of a logo, stationery, or website layout. From there, we take your feedback and move forward to combine top quality design standards and your vision into a finished product that will drive sales and grow your business.
Reach out to The Graphic Edge, Inc. to see what we can do for you and your team. Whether you're looking for branding, signage, a website, social media, stationery, advertising, marketing or something that you think fits into or around these categories, we look forward to hearing from you.